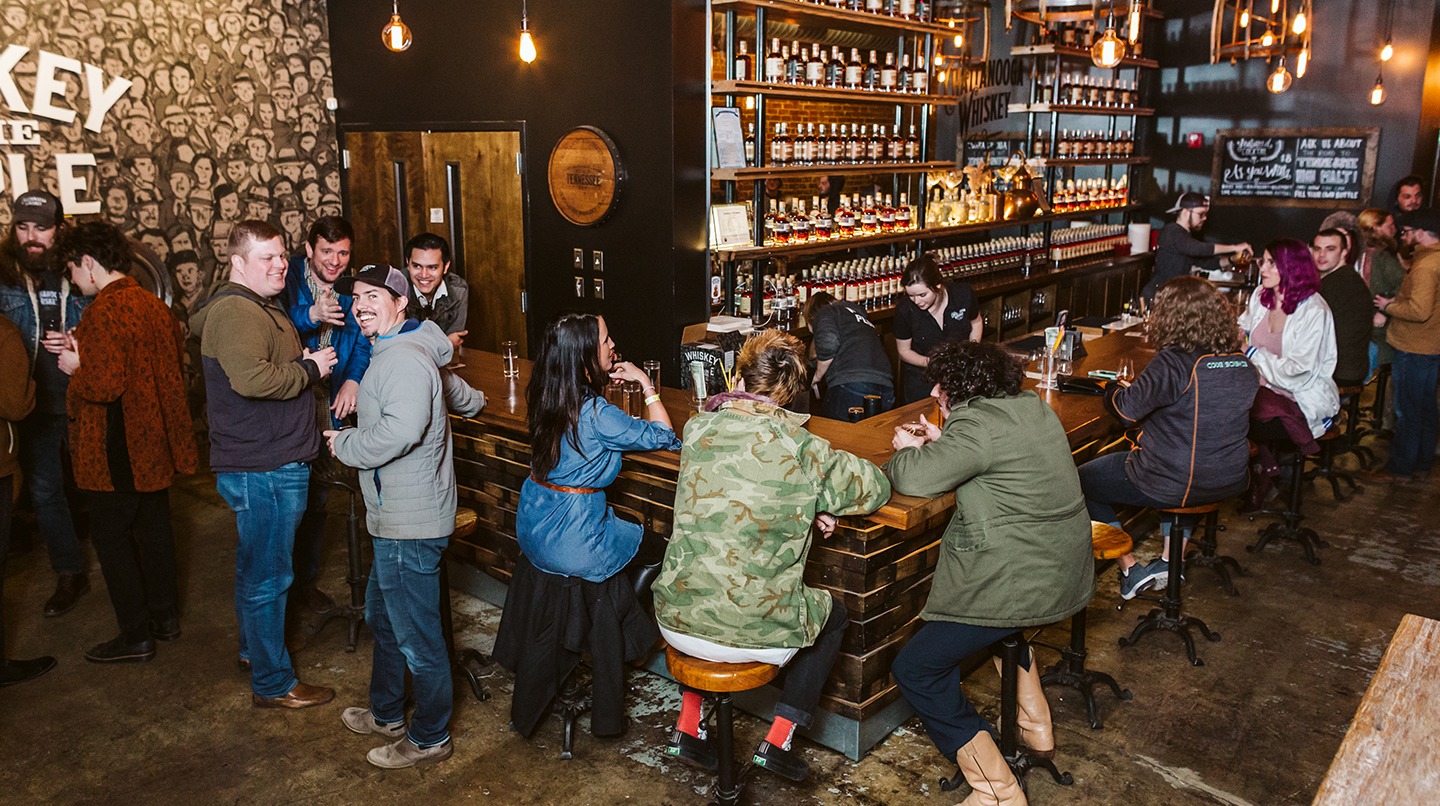 Making Up for 100 Years of Prohibition
Chattanooga Whiskey Experimental Distillery
Opening in March 2015 and located in the heart of downtown Chattanooga, our Experimental Distillery is the first distillery to craft whiskey in Chattanooga in over 100 years. With over 100 different barrels maturing in the aging cellar, every visit to the Experimental Distillery is an exploration of the past, present and future of hand-crafted bourbon. Stop by for a tour and tasting and check out our latest releases.
1439 Market Street Chattanooga, TN 37402
423-760-4333
Hours of Operation
Monday-Thursday: 11am-9pm
Guided Tours & Whiskey Tastings Hourly: 12pm-8pm
Friday-Saturday 11am-LATE
Guided Tours & Whiskey Tastings Hourly: 12pm-7pm
Whiskey Cocktail Lounge: 8:30pm-LATE (Must be 21+)
Sunday
Retail Bottle Shop: 11am-6pm
Guided Tours & Whiskey Tastings Hourly: 12pm-5pm
Book your tour below or call 423-760-4333
Based on 195 Reviews
Ashley W.
2019-03-27 16:13:38
We came here with a group for work and really enjoyed the tour. Kaitlin kept it fun and really knew her stuff!! Great walkable area as well
Jamie B.
2019-03-04 04:14:29
What an experience yesterday! Our tour guide Smiley was awesome! She schooled us on whiskey and bourbon and the entire process of making the delicious their...
Kathleen C.
2019-03-03 13:50:35
Husband and i were in the area for a concert, so decided to stop into Chattanooga Whiskey since we are bourbon freaks (*as in we stopped in probably 15...
Book Your Tour
Learn our history, our craft production process, and what makes Chattanooga Whiskey's Experimental Distillery the only distillery of its kind in the country. Approximately 1 hour in duration, tours are $12.00 per person. At the end of the tour, guests of legal drinking age (21+) can sample our award winning whiskey with a one-of-kind whiskey flight.
One-hour | $12.00 per person
*We strongly encourage tour reservations be made in advance either online or call 423.760.4333
Whiskey Cocktail Lounge
Be our guest at our whiskey cocktail lounge open from 8:30pm to late, Thursday through Saturday. Have a seat at the bar and explore our experimental whiskeys through a flight, or indulge in one of our specialty craft cocktails. Great place to start or end your evening.
View Menu
More Experiences