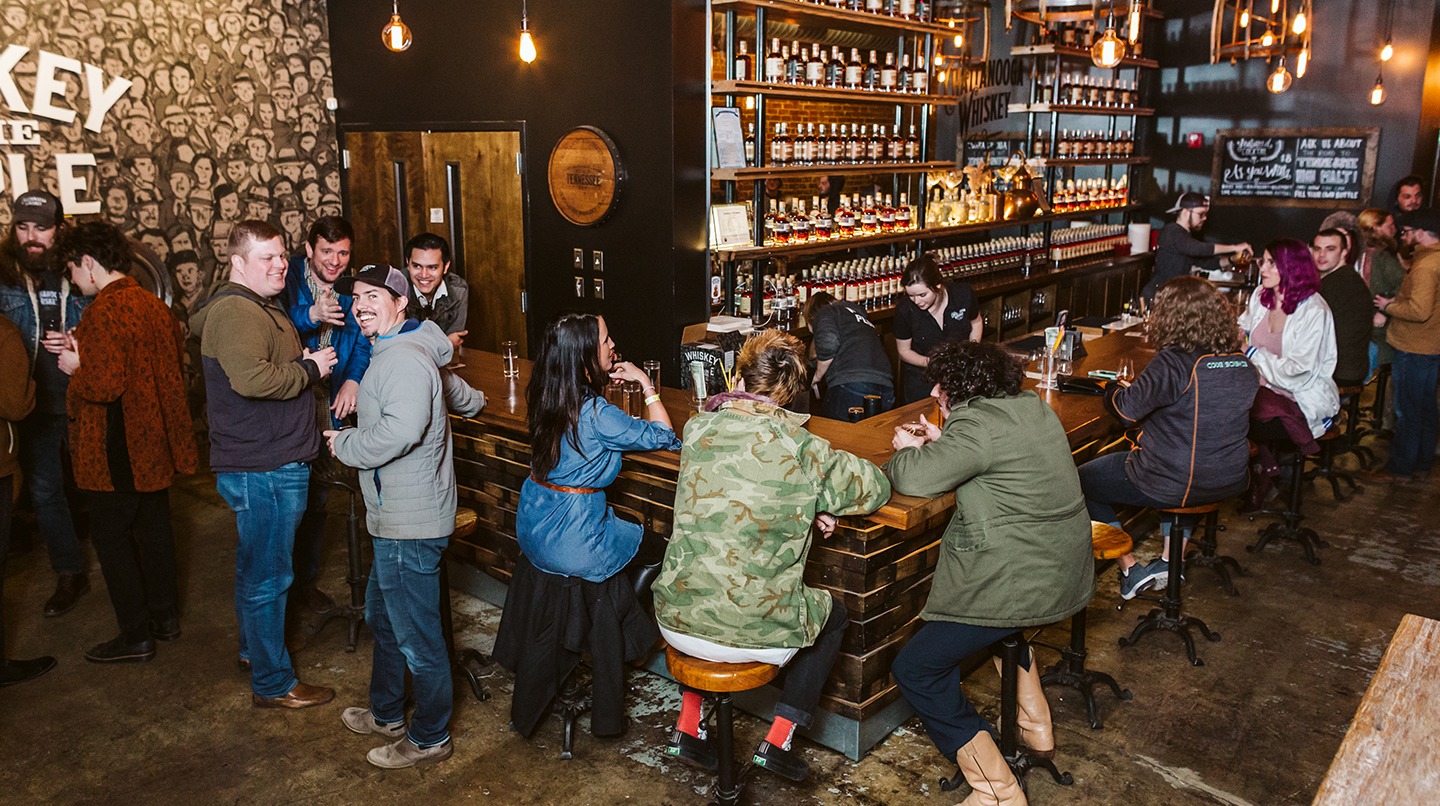 Making Up for 100 Years of Prohibition
Chattanooga Whiskey Experimental Distillery
----------------------------

TO HELP PREVENT THE SPREAD OF COVID-19 (CORONAVIRUS), THE CHATTANOOGA WHISKEY EXPERIMENTAL DISTILLERY WILL SUSPEND TOURS, TASTINGS, AND BAR SERVICE EFFECTIVE MARCH 17, 2020. ALL TICKETS PURCHASED DURING THIS TIME WILL BE FULLY REFUNDABLE.

OUR RETAIL BOTTLE SHOP (1439 MARKET STREET) WILL REMAIN OPEN.

THE SAFETY OF OUR GUESTS AND STAFF IS OUR HIGHEST PRIORITY, AND WE APPRECIATE YOUR UNDERSTANDING.

PLEASE EMAIL TO CONTACT US WITH ANY QUESTIONS: [email protected]

----------------------------

Opened in March 2015 and located in the heart of downtown Chattanooga, our Experimental Distillery is the first distillery to craft whiskey in Chattanooga in over 100 years. With over 100 different barrels maturing in the aging cellar, every visit to the Experimental Distillery is an exploration of the past, present and future of hand-crafted bourbon. Stop by for a tour and tasting and to check out our latest releases.
Hours of Operation
Monday-Saturday: 11am-9pm
Retail Bottle Shop Only
Guided Tours & Whiskey Tastings Hourly: 12pm-8pm
Sunday: 11am-6pm
Retail Bottle Shop Only
Guided Tours & Whiskey Tastings Hourly: 12pm-5pm
Book your tour below or call 423-760-4333
Book Your Tour
Learn our history, our craft production process, and what makes Chattanooga Whiskey's Experimental Distillery the only distillery of its kind in the country. Approximately 1 hour in duration, tours are $12.00 per person. At the end of the tour, guests of legal drinking age (21+) can sample our award winning whiskey with a one-of-kind whiskey flight.
One-hour | $12.00 per person
*We strongly encourage tour reservations be made in advance either online or call 423.760.4333
Whiskey Cocktail Lounge
Be our guest at our whiskey cocktail lounge, open from 8:30pm to late, Friday and Saturday. Have a seat at the bar and explore our experimental whiskeys through a flight, or indulge in one of our specialty craft cocktails.
View Menu
More Experiences